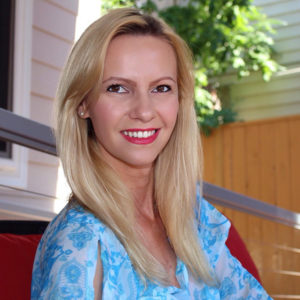 Adriana Gavozdea started a new life in America in Tigard, an area in the suburbs of Portland. Originally from Târnăveni, Târgu Mureș, she rose just like a Phoenix from the ashes. In 2011, she came to America after sad circumstances. She arrived with the four-year-old girl, $200 in her pocket and without knowing how to speak English.
Eight years later, Adriana became CEO and founder of the www.LariaCareFinder.com Platform, a member of the Board of Directors of the Oregon Association of Care Home Providers, and now lobbies with Oregon State Governor, Kate Brown, on behalf of senior citizens.
"I divorced my husband because he was physically and mentally abusive," Adriana tells me. I left Romania 8 years ago to visit my parents after my divorce and later on I decided to stay. They came here a long time ago with the visa lottery. Since then, I have been a great advocate for domestic violence.
When you go through such a situation, you live in a fog, your aggressor always tells you that there is no life if you leave him, that you are finished, or dead, that there is nothing left if you leave. I am a living example that there is another perfect life after divorce and you just have to take the necessary steps to get out of this vicious circle.
Whenever I hear a woman complaining about the same cause, I always tell them that there is life beyond an abusive marriage. There is a much better reality than what they are trying to teach you by telling you that you cannot survive without them. I started a new life in a new country.
I worked as a caregiver in elderly homes and last year I launched the company "Laria Care Finder". I often attend business meetings with hospital directors and with people and companies in the American medical industry. And in the last seven months, I have met hundreds of extraordinary people I didn't know before. It's a different life!"
Irina VanPatten: What helped you get through this sad experience?
Adriana Gavozdea: For me, the most important thing was family support. When I was going through my divorce, it was very difficult for eight months because I was practically alone in Romania and my family was talking on the phone with me for five or six hours each day. I felt tremendous support from them. And now we live together because it is very important for me to raise my child with its grandparents and family, rather than hiring a babysitter whom I do not know. I consider myself very lucky from this point of view because I have other Romanian friends who came here without family and it is very difficult for them.
I.V: Why did you choose to become a caregiver?
A.G: I started working as a caregiver because my parents have an elderly home and in Oregon , this is a very big industry and most of the owners are Romanian. It is a house where the owners live with families but it is licensed by the state. Caregivers provide accommodation, medical and daily maintenance services.
You have to get your license every year, you also have to go to school every year to keep up to date with everything. You can have an addition to the house or you can have another house, where you have a maximum of five people to look after. In Oregon, the law says that every home has the right to a maximum of five residents. We, at the association, are trying to change this provision in order to have seven residents. In that way, we can help more people in need of care.
I.V: How difficult is it to be a caregiver?
A.G: I like working and helping  people, but it is very difficult sometimes. In addition to physical incapacity, most also have mental problems. They live with you in the same house where you are their caretaker all day and night and you do everything for them: from brushing their teeth to dressing them or helping them to eat.
The hardest part is the emotional part, because you attach yourself and they become part of your family. After years and years of working together, they become like your grandparents, and when they are gone, it is very difficult. You can have employees or work with your family. We try to balance the situation by hiring other carers, so that we also have a free day or two per week so we can leave the house on holidays.
I.V: What is Laria Care Finder?
A.G: A few years ago, while working at different retirement homes, I noticed how families were calling for vacant rooms. It seemed like a waste of time for them to call hundreds of homes, when they don't even know what they look like. We live in a world of technology, where everything is just a click away. Why shouldn't elderly people's homes be as accessible online as anything else? Last year we created www.LariaCareFinder.com, a website for elderly people.
The houses are registered free of charge and they can place their vacant sites on the site with a picture of the house. We also have a "premium package" for one year, which gives them more possibilities: upload more photos and describe more services they offer. We then promote these houses with vacant rooms and present them to families who need these services. The families then directly contact the home they liked. We are trying to build a community where anyone can sit on the couch at home and look for an elderly home for mom or dad, because this industry does not have enough exposure at the moment.
In fact, I want to make big changes in this sector to simplify the way in which clients find the best homes and avoid having to deal with costly placement agents. The agent usually takes a commission, one hundred percent of the amount that should be collected by elderly people's homes in the first month. I want to make a free option and not to pay this amount to the elderly homes. Even my parents pay thousands of dollars, sometimes for only a 10-minute tour with an agent.
There are many good agents, but there are also many, as we say, quotas. I made the website for more people to know about these elderly homes, which are fantastic and the owners are very involved. The houses owned by the Romanians are extraordinary, clean, pleasant, friendly, the food is always cooked hot three or four times a day and you see impeccable cleaning, as part of Romanian tradition. We have homes registered in the states of Oregon and Washington. Yesterday, I saw that some from Arizona, North Carolina and California are also registered. Our goal is to grow nationally and remove state borders with just one click.
I.V: Who are your customers?
A.G: We have two categories of clients: families or individuals who are looking for an elderly home that looks like a house, not a hospital, where the surroundings are more familiar and more pleasant than an empty living room. A place where there is always hot food and personalized medical care, which they need, day and night. Also, all our clients are the owners and managers of the elderly homes that have free rooms and want to promote them.
Both sides meet on the website: both those who need care and those who provide care services. We do not have an age limit, anyone can go to these houses. Some caregivers prefer to work with younger people, others – with elderly people, others – with children. On their website they can post their vacancies and describe what services they offer. Then, as a family, you go and choose. If you have a 12-year-old child who has mental or physical problems and needs care, you can do a search and find the homes that offer such services.
I.V: If you have patients with mental difficulties, how do you take care of them?
A.G: Homes are categorized and licensed by the state at various levels in Oregon. Category I and II are for those who can walk and are more independent to do their own thing. Category III is for those of us, carers, who usually do everything for them. In the third category, people can enter in very serious conditions, even on the deathbed. We are with them there until the end of their lives. There are also other categories of homes, specialized in working with different types of mental challenges: developmental disabilities, mental health, etc.
Irina VanPatten