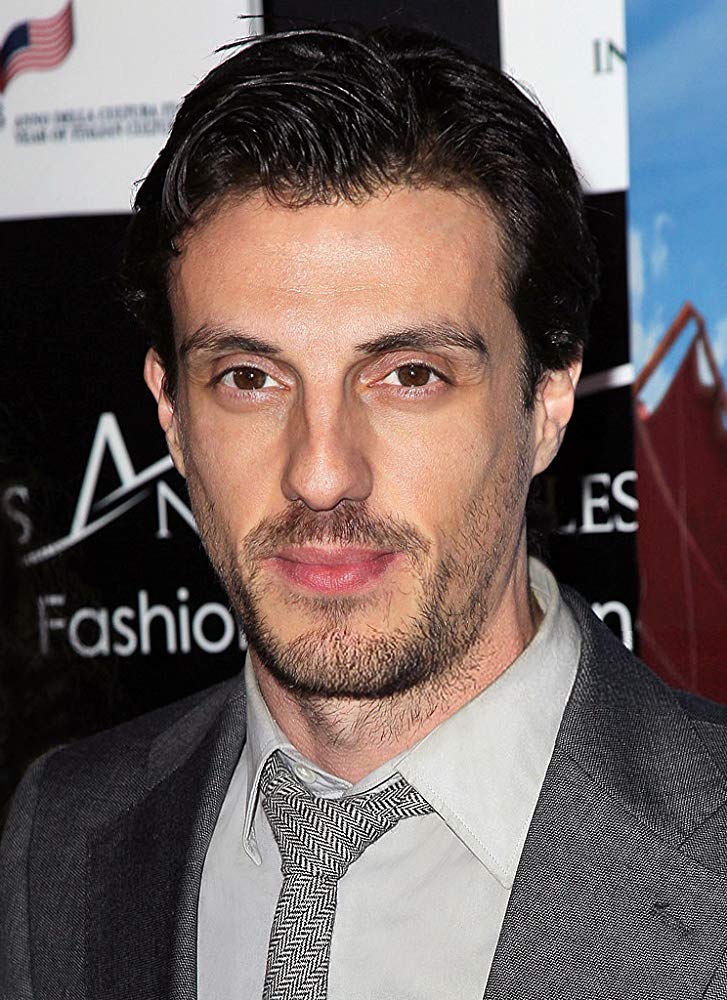 The Romanian actor, Ian Fisher, first started out as an aspiring musician and transformed his career into working alongside some of our childhood heroes. Kymbear from Scary Basement Media was able to have an exclusive chat with this talented and kind man. He grew up in Israel and Italy and moved to the US in 2005. His career started in music as a lead singer in a rock band. He was performing live shows ranging from local venues to national stadiums, winning numerous awards including 'Band of the Year'. In 2005, he was awarded a full scholarship to attend the prestigious Lee Strasberg Theater and Film Institute, then began working at The Actors Studio. 
Vera Zadoinov: How old were you when you moved to U.S and how did you adapt to a new country?
Ian Fisher: I moved here when I was 29 years old. Moving was easy since I have been in the US before, also my father used to work here for a couple of years so it wasn't new to me. My childhood friend lived here already, so when I came I had a home. I also came to study at the Lee Strasberg Institute which helped a lot because I was already in a system with people just like myself.
V.Z: When did you realize you wanted to be an actor and what inspired you to go for it?
I.F: When I was 5 years old, we lived in Bucharest. We had a doctor in our neighborhood who was a fortune teller. One day she stopped my mom and me on the way to kindergarten and looked at me and said: "One day you will be in Hollywood in the movies!" It sounded crazy, but…I am in Hollywood today and in the movies. As a kid, I watched movies about Rambo and Bruce Lee. I saw Stallone and said to myself, "this is what I want to do – acting"! I would say I dreamed about this at a very young age. 
V.Z: How did you get the first acting job and what was it?
I.F: My first acting job was in a Horror film with Eli Roth called "Don't Look Up". They needed Romanian actors, six of them had to be accurate and I was one of those six Romanians that happen to live in Los Angeles, so they hired me. That film got me into the Screen Actors Guild Union (SAG). I have done some extra work before in a few films but this one was my first acting gig and it had a lot to do with the fact that I was born in Romania.
V.Z: What were the challenges you faced in the movie industry in Los Angeles?
I.F: The challenges are common to most actors, such as how to get an audition, how to get an agent or manager, what can I do to earn money here while I was studying acting, how do I get in the Actors Studio, how do I become a SAG. It comes down to how hard you work on your craft and how good you are at what you do. What can you offer to this industry, was the biggest question to ask myself.
V.Z: How did you get your first acting agent?
I.F: I got my first agent through a workshop, an acting class where you get to meet every week different casting directors and agents. You get a scene to work in front of them and you will have 5-10 min to show your skills. I want to be clear about this: Do not go there if you're not ready because you will just shoot yourself in the foot. Once you do your training, which is at least a couple of years, than maybe you are ready and that is a really good place to show yourself.
V.Z: I saw on IMDb you have worked with many famous actors including Gal Gadot, how was that experience?
I.F: Well yes, I did work with Gal Gadot and a few other big names. The experience with Gal Gadot was great since I knew her from Israel before she was Wonder Woman. It was like working with a friend, I was the producer on that project so it made it easier working directly with her. I am very proud of her and how far she got, she is an amazing person and very pleasant to work with. I would say working with Jean-Claude Van Damme on the Amazon show by Ridley Scott "Jean-Claude van Johnson" was an experience for me. I had his posters on my wall growing up and suddenly I am on set doing a scene and fighting with him. That was mind blowing! I could not believe for a moment I got to act with Van Damme.
V.Z: What kind of characters and movies do you aspire to work on in the future?
I.F: As an actor, I love to do everything but if I can point out my favorite, it would be Sci-Fi and if the producers of Star Wars are reading this article, then "I'm available" (he smiles). Drama films would be also challenging and an opportunity to show my acting skills. I love challenges.
V.Z: Who are the actors and directors that inspire and motivate you as an actor?
I.F: Sylvester Stallone would be my pick and not just because of the action films but also the dramatic roles like Rocky, the struggle and the pain of a person that is the underdog, rising up against all odds to achieve his goals. That type of film not only inspires you as an actor but also as a person by knowing that no matter how hard it is you can do it. I would say that Axl Rose had a big influence on me. It gave me the last push to focus on what I really want in life. Especially, when I got the "Guns N Roses – Use Your Illusion" albums in 1991 and played it for the first time. 
V.Z: How do you deal with rejection?
I.F: No one likes rejection but you have to understand that this is a big part of the business; it's 90% of it. Rejection is never personal and it has so many reasons behind it that are beyond your control, and what you can do is to work harder. Move on to the next thing, focus on what you can do to be better and get the part that does fit you, remember you are not alone and eventually you will get that part.
V.Z: What advice would you give to actors from Romania that dream to work in Hollywood?
I.F: My first advice is Do Not Do It. If you can do something else then do it, but….If you still decide that this is it, you will give up everything to come here, then remember to work hard, train hard! Don't come here to party but work, go to acting classes, read plays even when your friends are going out to party, you stay home and study. It is not an easy job, everyone wants it, there will always be someone out there wanting it more then you or is lucky to know the right people – so you do better! It can get lonely here, not everyone is built for this. 
Remember one thing: "What can you offer that someone else can't"? You need to work hard to be better than the other actors who want it just as bad as you do. As kids, we say when we grow up that we want to be a Doctor, Fireman, Astronaut, Teacher, Police. Well, as an actor, you can be all of that!
Download our FREE online magazine HERE (January Edition 2020) and our PRINTED magazine for 10$